Discover Permaculture in Ireland with the Cork Permaculture Club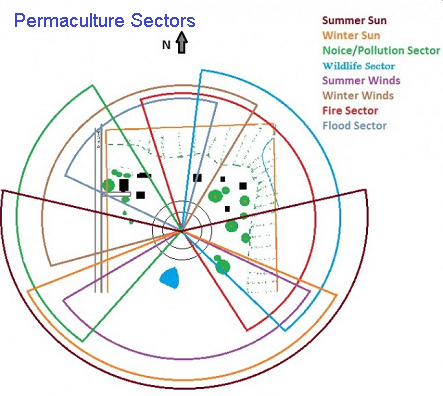 Permaculture is an ethical design science. It offers methods for cultures to live and farm ethically in harmony with nature.
Permaculture methodology and design is highly influenced by climate, the majority of the climate dependent information on this site is specific to the climate of Ireland namely "Temperate Oceanic Climate"
(Köppen Code: Cfb - C : Temperate - f : Without dry season - b : Warm summer)
.
For ease of reference Permaculture videos and resources are organised in terms of "Permaculture Zones & Sectors" and for added functionality there is a search option also.
In Permaculture we loosely divide up the design into Zones according to the amount of attention each area requires so as to reduce the amount of time and distance to travel.
Zone 0 – Home & indoor production (sprouts/ferments) and processing of food, waste, water collection, repairs and education.
Zone 1 – Area outdoors needing regular observation, tending and harvesting e.g. plants we can browse and use each day.-Poly-tunnels.- intensive garden beds with keyhole access.
Zone 2 – Less intensive managed areas but with animals needing daily attention e.g. poultry, rabbits, worm farm, snail farm. Orchard trees.
Zone 3 – Occasionally visited areas with self-fed animals (stock) and seasonal wide ranging crops e.g. corn, wheat, rice, pumpkin, bamboo.
Zone 4 – Wild food gathering (e.g. nuts, native fruits) Wood for Fuel, self seeding trees.
Zone 5 – Natural area – a rarely visited area. linked with neighbouring wildlife corridors.
Another concept in Permaculture is Sectors. A Sector is a force or flow of energy such as People, Animals, Sun, Wind, Water, Access and many others into or out of your Permaculture site.
By mapping out sectors we can influence our design to take advantage of each sectors properties.
A good example would be optimizing solar water heaters to the winter sun angle to provide maximum solar gain. Likewise there is a section for information on each sector type used in Permaculture.
Welcome to the Cork Permaculture Club
1 user online :: 0 Registered, 0 Hidden and 1 Guest
Most users ever online was 89 on Tue Mar 16, 2021 2:07 am
Registered Users: None


No users have a birthday today
No users are having a birthday in the upcoming 7 days

New posts
No new posts
Forum is locked